Easy to Make Snacks: Apricot Energy Balls Recipe
When you need a tasty boost of energy, enjoying one or two of these tasty bites of energy-packed apricot balls does the trick. A great post-workout snack, kid-friendly, or on-the-go recipe to have on hand.
Simple, quick, and good for you, Apricot Energy Balls Snack Recipe.
I used to grab a chocolate bar, or load up on a soda, or simply graze all day just to keep up my energy levels. Mind you, my grazing habits included starchy carbs that were full of everything bad for me.
What I love about this snack recipe, is that not only are they good for you and taste great, but my kids actually like them! If you're a parent, you know that's a hard combination to find sometimes, but this time I managed to have success.
If you can't find dried apricots, you could substitute other dried fruits, such as Medjool dates. I find that the dates are a bit sweeter, so I just add less honey when making them, and they turn out wonderful.
To make these, you'll need a food processor. You could spend plenty of hours finely chopping away to get a somewhat doable consistency, or even try it in a blender, but trust me, this is a food processor kind of recipe that will save you time and frustration.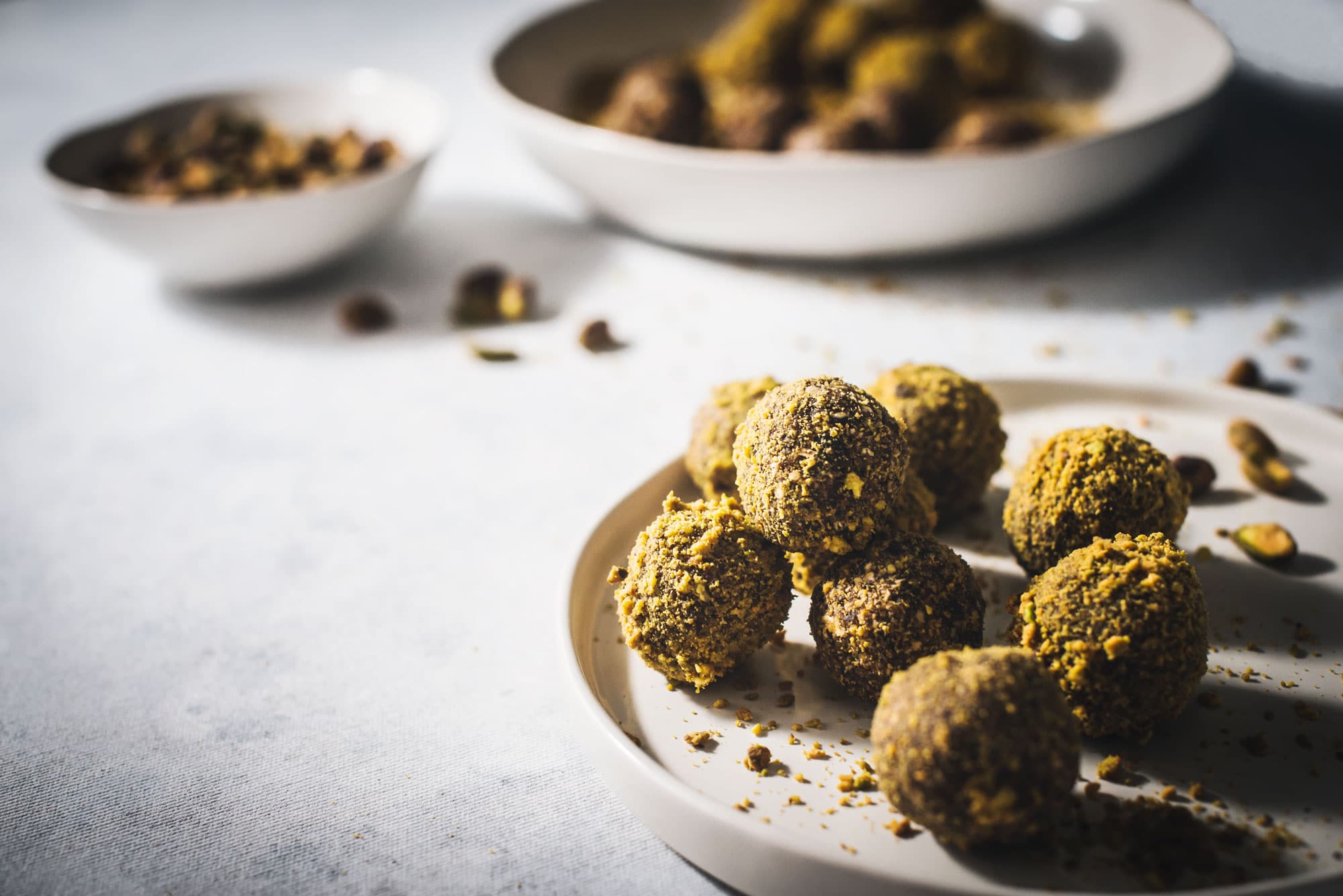 What You'll Need to Make this Apricot Energy Balls Recipe:
Dried apricots, I prefer the unsulfered apricots
Honey or date syrup
Almonds
How to Make:
Step One:
In a food processor, add all of the ingredients except the shredded coconut. Pulse until smooth.
Step Two:
Once you have a moldable paste they will stick together well without crumbling, lightly dampen your hands, and form a tablespoon portion into a ball rolling between your hands. This can get messy. Repeat until all of the energy ball mixture is used.
Step Three:
Once you have finished, in a shallow plate or bowl filled with shredded coconut, roll each energy ball in the coconut to coat, and set aside.
Step Four:
Once made, this apricot energy ball recipe can be kept in an airtight sealed container in the refrigerator for up to 1 week or in the freezer for up to 2 months.
Energy Bites Tips and Tricks
Thanks to the simplicity of this recipe, you can prepare these bites of apricot energy balls in no time. Follow these quick and easy tips to ensure your energy balls snacks come out delicious every time you make them.
Substitute Medjool dates for dried apricots. If you can't find unsulfered or regular dried apricots to make this recipe, there's no need to skip out on making this good for you healthy snack. Simply substitute the dried apricots with the same amount of Medjool dates.
Use a food processor for best results. You can use a blender or chop away for what may seem like eternity to make these tasty energy bites, but those methods make it difficult to get a smooth consistency. A food processor is a great way to ensure all your energy balls will roll into smooth balls.
Use water to keep the sticky texture under control. While you may want to just start rolling away, your hands need to be dampened with a bit of cold water just before rolling. Even in doing this, it's still a sticky bit of fun … mess, but does help the process along to allow for nicely rolled apricot energy balls.
Try these Other Great Snack Ideas:
How to Make this Apricot Energy Balls Recipe:
Yield:

Makes 24
Easy to Make Snacks: Apricot Energy Balls Recipe
Additional Time:
10 minutes
Easy to make and ideal as an on the go snack, for your post workout snack, and it's kid-friendly, Apricot Energy Balls recipe.
Ingredients
1 cup dried apricots
1/2 cup pistachios, plus 1/4 cup to coat
1 cup rolled oats
1 tablespoon hemp seed
1 teaspoon ground cardamom
2 tablespoon MCT oil
1/2 cup pear or apple puree
2 tablespoon agave
1/4 teaspoon Himalayan salt
Instructions
Place all ingredients in a food processor and process for 30 - 60 seconds on high until it forms a paste and sticks well to itself. If still crumbly, add 1 teaspoon of MCT oil until desired consistency.
Dampen hands with water and roll about 1 tablespoon of the mixture into balls. Repeat until all mixture is used.
Finely chop 1/4 cup of pistachios, and place in a shallow bowl or dish, roll each apricot bite into the chopped pistachios dusting well.
Can be kept in the refrigerator for up to a week, or seal in an airtight container and freeze for up to 2 months.
Notes
You can substitute dried apricots with Medjool dates.
Pistachios can be substituted with almonds.
Agave can be substituted with honey.
For the pear or apple puree, you can use the fruit puree found in the baby food aisle.
Nutrition Information:
Yield:
24
Serving Size:
1
Amount Per Serving:
Calories:

52
Total Fat:

2g
Saturated Fat:

1g
Trans Fat:

0g
Unsaturated Fat:

1g
Cholesterol:

0mg
Sodium:

22mg
Carbohydrates:

8g
Fiber:

1g
Sugar:

4g
Protein:

1g